Online Soccer Manager (OSM) - 2019/2020
3.4.44.0
Live the Dream of Becoming a Soccer Manager
Ever wondered how a football club is managed? Do you dream of managing your favorite club or team to success? If yes, then you should definitely try this soccer management game. Online Soccer Manager (OSM) is a nice game which allows you to step into the shoes of a football manager and run your favorite club. You will get to sign a contract with a team of your choice and be its manager for a whole season. Your duty as the soccer manager would be to take decisions regarding every aspect of the club. From team selection to player training to club finances, you will be the in charge of it all. Although this game requires access to some private information, it doesn't pose a threat to your privacy.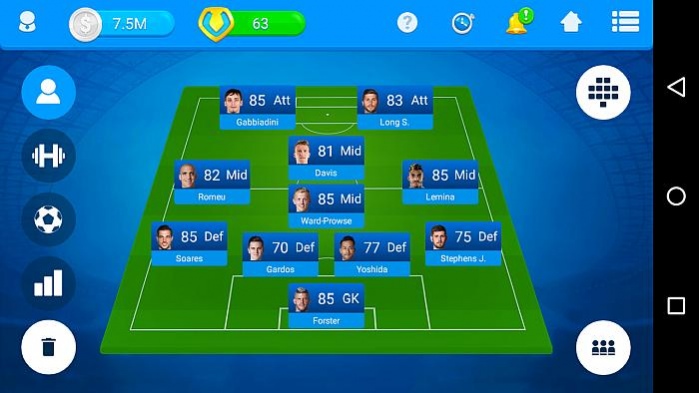 Online Soccer Manager (OSM) has licenses of all the major competitions and football clubs. So, you get the chance to manage a number of national teams and clubs in various leagues all around the world. To start off, you need to pick a team or club that you want to manage. You will have search for your favorite club or national team from the categories provided to you. Do keep in mind that you can only choose a team which is available. If your favorite club is taken then you will have to settle for a different club. After becoming the soccer manager, your first job would be to assess the squad that is available to you. You will find detailed statistics of each player which will help you in finding out their strengths and weaknesses.
In this soccer management game, you are provided with instructions on every aspect of football management. These instructions will help you in understanding the tasks that you would have to perform as the soccer manager. You will also find a to-do list in Online Soccer Manager (OSM). This would provide you with objectives that you would have to complete in order to be ready for the upcoming game. For instance, the to-do list is going to set you tasks like choosing the line-up, deciding the team formation and tactics and scheduling training of your players. Moreover, you will have to designate the club captain and assign special duties such as penalties, free-kicks, and corners to the players of your choice.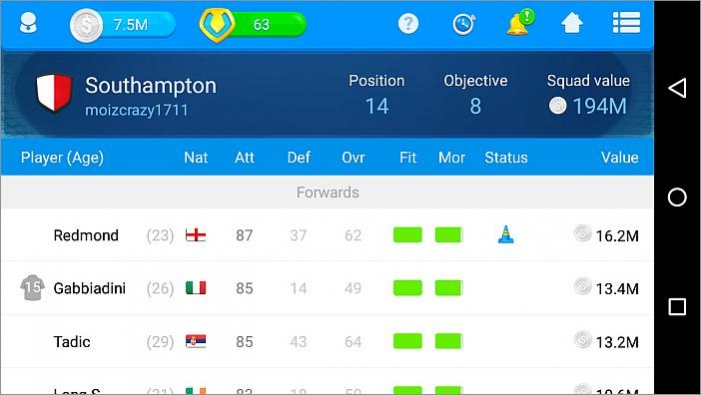 Online Soccer Manager (OSM) requires you to not only select the team and train them for matches but also to look after the club's finances. This means that you will have to make upgrades to the stadium and pitch to attract more people to see your games which in turn would boost your club earnings. You can also sell players to increase your finances but make sure that you make suitable acquisitions before letting your star players go. OSM is best enjoyed if you play it with your friends. So, invite your friends to join you and then find out which among you is the best soccer manager.
Features
Various teams to manage
Detailed statistics of all the players
Oversee the player training sessions to improve their skills
Devise tactics and team formations for each game
Buy and sell players to strengthen your squad
Send scouts to find new players for your team
Manage the legal aspects of running a football team
Perform upgrades to the stadium to increase your club's finances
Participate in club and international competitions
Conclusion
Online Soccer Manager (OSM) is a gaming app which is aimed towards fans of soccer who want to see what goes on behind the scenes at a football club. It offers them the opportunity to become the manager of different soccer teams and lead them to success in various club and international competitions. It is a very addictive game and a must-have for anyone who dreams of becoming a soccer manager.
---
Add a review
Tell us your experience with
Online Soccer Manager (OSM) - 2019/2020
3.4.44.0
RELATED PROGRAMS
Our Recommendations
---
---
---
---